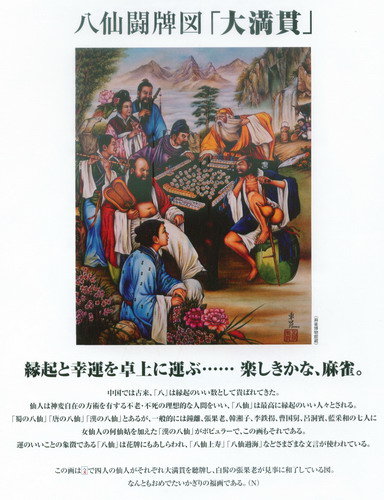 Translation:
The Picture of Eight Celestials Playing Mahjong "Grand Slam"
Mahjong--the fan of luck and getting lucky
Number 8 is Chinese traditional lucky number. Immortals enjoy their life in luxury and immortality. People desire this kind of life. In this sense, the Eight Celestials are the luckiest people in the world.
As legend goes, there are the Eight Celestials of Shu, Tang and Han. The Eight Celestials of Han are the most famous among them, it includes Han Zhongli, Zhang Guolao, Han Xiangzi, Li Tieguai, Cao Guojiu, Lue Dongbing and a woman named He Xiangu. This picture is the famous the Eight Celestials of Han.
The Eight Celestials are sample of luck in the Mahjong play. Their images are on the flower tiles.
The Eight Celestials are going to calling Mahjong on same tile. It a grand slam combination. A celebrated picture.